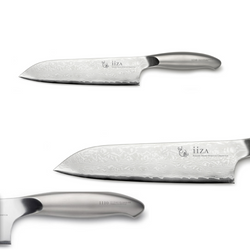 Iiza - Santoku (Stainless Steel Handle)
1210 SANTOKU 180
VG10 core Multi-Layer Steel Blade Stainless Steel Handle
Finest Japanese knife making craftmanship creates flowing and exquisite patterns known as Damascus by alternating 33 layers of soft low-carbon stainless steel and hard high-carbon stainless steel. Its soft and hard layer structure realizes higher strength and rigidity than general 3-ply steels. The blade uses VG10 steel for the core blade.
Clad metal for the highest quality
The material used for the blade is clad metal manufactured using world-leading techniques by local companies in Echizen, which has extensive experience in this field. Clad metal is produced by forging different layers of metal together, taking advantage of the strength of each piece as an integrated unit while ensuring any weaknesses are balanced out by each layer. The steel is composed of a perfect blend that produces a long-lasting, greatly long-sharpness, hard to bend or break, and rust resistant.
VG10, Finest stainless cutting steel
VG10 stainless cutting steel is made from strictly selected pure iron that is worked using an optimal blend to produce an extremely sharp high-quality cutting steel manufactured using the finest steel processing technology . Its high corrosion resistance means that it is rust resistant and its superior abrasion resistance ensures that it retains its sharp edge.
Stainless handle
Stainless handle series is designed by Mr. Chiaki MURATA at the former Japan Brand project. For sturdy handle parts and blast finished. It has a spoon cut configuration parts for the joint between blade and handle with weight and shape. Total design keeps the best balance for fit and comfort of use.