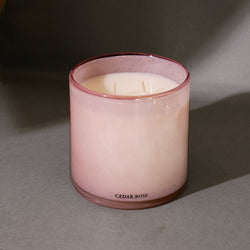 Hong Kong Local Sailing Scented Candle (400g)
The Studio Series scented candles are made with complex fragrance blends which have been developed long ago and kept in our studio until we found this hand blown glass. The scents and light through the organic glass patterns together creates a beautiful sensual experience. 
CEDAR ROSE
Notes: Rose, iris, musk, cedarwood
A multi-layered woody rose scent, choose Cedar Rose for a romantic musky fragrance. Iris sings in a burst of freshness, whilst musk adds a subtle depth.
Made in SAI KUNG, a quiet sea side outskirt of Hong Kong with high quality vegetal wax in small batch, clean burn, lead-free cotton wick and premium fragrance oil. No added dyes.
 
Ingredient
Vegetal wax
Coconut oil
Fine fragrance
Essential oil

Approximate burn time: 50 hours